I am driven by a general fascination about how the immune system works not only to help us fight infections but with particular focuss to control cancer development and progression.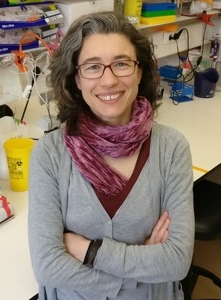 I will dedicate these pages to:
present my past and ongoing lines of research,
highlights the recent articles that I find interesting in the Latest News' section,
and finally use it as an opportunity to give access to my CV!
I hope you will enjoy it and find it useful!
When I was awarded an investigator FCT fellowship (2014), I embrace this opportunity to study tumour immunity with particular interest to the interactions between myeloid cell subsets and T cells during tumour responses. I focus on the induction of a protective lymphoid antitumour immunity in order to delay tumour progression and ultimately to eliminate cancer and prevent recurrence. For instance, in a recent review we have dissected the complex role that interferon-gamma (IFN-γ) display on myeloid and lymphoid cell subsets in the tumour microenvironment (1).
I believe that tumour-infiltrating myeloid cells, that include monocytes, macrophages, neutrophils and dendritic cells, play critical roles in preventing the induction of an effective T cell antitumour responses (2). In fact myeloid-induced immunosuppression is even considered one of the major obstacles to cancer immunotherapy. In this context my ongoing work focusses on the continuous interplay between the myeloid and lymphoid effectors which actively prevent on cancer progression.
In fact, dissatisfied with what I consider a paradoxical disinterest in antitumour myeloid cells over their protumour counterpart, I aim to make a valuable contribution to study them at the time they perform antitumour functions within the tumour. By doing so, we found a major role for IL-15-producing monocytes that activated NK cells with potent anti-metastatic properties (3). Given the dual role of γδ T cells in cancer (4), we undertook to dissect the cellular and molecular mechanisms that regulate the protumour IL-17-producing γδ T cell subset in the tumour microenvironment. We reported that tumour-associated neutrophils can display an overt antitumor role by strongly suppressing IL-17-producing γδ T cells. Tumour-associated neutrophils inhibited the proliferation of murine IL-17-producing γδ T cells via induction of oxidative stress, thereby preventing them from constituting the major source of pro-tumoural IL-17 in the tumour bed (5).
My published work strongly supports that myeloid cell subsets crosstalk with T lymphocytes in the tumour bed to promote efficient anti-cancer immunity. This challenges the common view of myeloid cells as tumour-promoting immune. My ongoing projects aim to discover the molecular switch(s) to unleash anti-tumour properties of macrophages or neutrophils to improve cancer immunotherapies.
References:
1. F. Castro, A.P. Cardoso, R. Madeira Gonçalves, K. Serre and M.J. Oliveira. (2018). "Interferon-gamma at the crossroads of tumor immune surveillance or evasion." Frontiers in Immunology Volume 9 | Article 847. View this article online or download the PDF.

2. V. Umansky, G. Adema, J. Baran, S. Brandau, J.A. van Ginderachter, X. Hu, J. Jablonska, S. Mojsilovic, H. Papadaki, Y. Pico de Coana, K. Santegoets, J. F Santibanez, K. Serre, Y. Si, I. Sieminska, M. Velegraki, Z. Fridlender. (2018). "Interactions among myeloid regulatory cells in cancer". Cancer Immunology Immunotherapy, July, 1-16. View this article online or download the PDF.

3. H. Kubo, S. Mensurado, N. Gonçalves-Sousa, K. Serre, B. Silva-Santos (2017). "Primary Tumors Limit Metastasis Formation through Induction of IL15-Mediated Cross-Talk between Patrolling Monocytes and NK Cells". Cancer Immunol Res 5(9); 1-9. View this article online or download the PDF.

4. B. Silva-Santos*, K. Serre* and H. Norell (2015). "γδ T cells in cancer". Nature Reviews Immunology 15: 683–691. View this article online or download the PDF.
* Corresponding authors
5. S. Mensurado, M. Rei, T. Lança, N. Gonçalves-Sousa, H. Kubo, K. Serre* and B. Silva-Santos* (2018). "Tumor-associated neutrophils suppress pro-tumoral IL-17+ γδ T cells through induction of oxidative stress". PLOS Biology 16(5). View this article online or download the PDF.
* Corresponding authors