My research at the MRC centre for immune regulation (University of Birmingham, United Kingdom) focused on studying CD4 T cell differentiation and how they take part in B cell responses in vivo. This research has shown that mice infected with live-attenuated Salmonella typhimurium mount a strong Th1 type of immune response that is characterized by the induction of IFN-g by T cells and the production of IgG2a antibodies by B cells (1-3). This T-dependent antibody response is associated with a massive early extrafollicular response, whereas germinal center formation is delayed until 1 month after infection (1).
By contrast, in responses to alum-precipitated proteins naive CD4 T cells develop Th2 activities, up-regulating one or more of the following cytokines IL-4, IL-13, IL-5, GM-CSF, IL-3, and the transcription factor GATA-3 (3). In this response, there is selective T-dependent switching by B cells to IgG1 and IgE (4, 5). This T-dependent antibody response is characterized by parallel extrafollicular plasmablast growth and germinal center formation (5).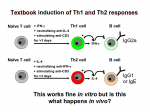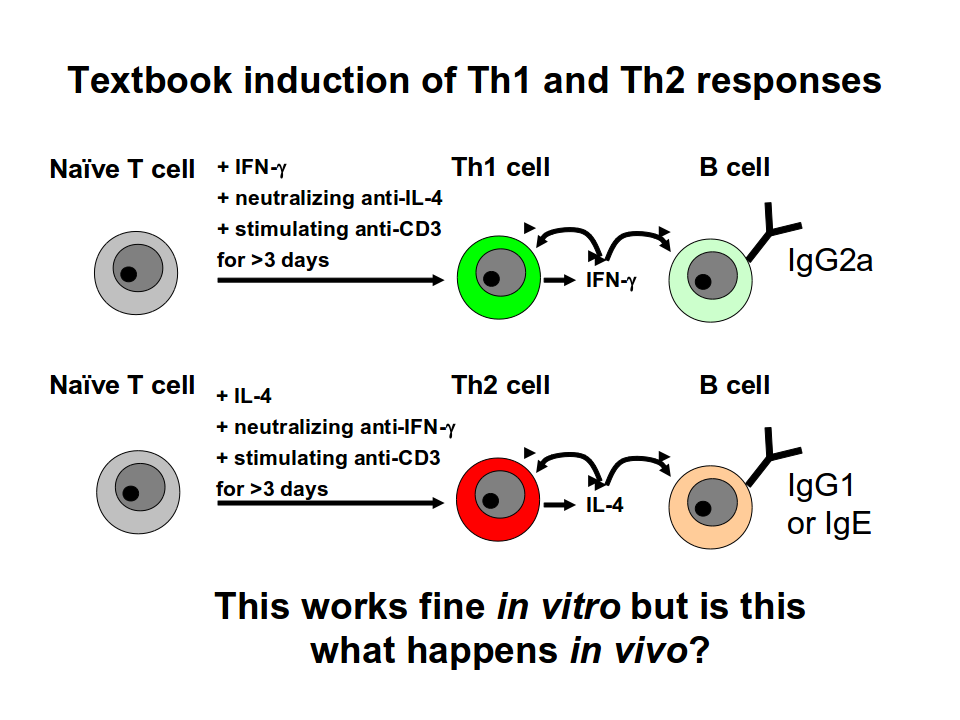 Most of our knowledge of CD4 T cell and B cell acquisition of effector functions was deducted from in vitro experiments, where these cells were subjected to cytokines effect in culture (see left cartoon). For instance, our understanding of IL-4-induction in CD4 T cells has been largely provided from in vitro cultures where T cells are stimulated through their T cell receptor and costimulatory molecules in the presence of IL-4. In the same way, B cells stimulated in the presence of IL-4 are induced to switch to IgG1 isotype immunoglobulins.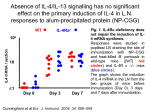 However, it is extremetly important to conduct experiment both in vitro and in vivo. Indeed, there is evidence that the molecules involved in IL-4-signalling and that are key to the differentiation of IL-4-producing Th2 cells in vitro are dispensable in vivo. Several laboratories, including our own, have shown that mice lacking IL-4/IL-13, or IL-4 receptor a chain, or STAT6 are able to respond to Th2-antigen by up-regulating IL-4 mRNA and protein as efficiently as wild-type mice (Fig. 1) (4, 6).




In addition, early switching to IgG1 by B cells is unaltered in these mice lacking IL-4 signalling (Fig. 2). These data have prompted me to look for what, if not IL-4 itself, triggers IL-4 in vivo.
To date the signalling pathway involved in the IL-4-independent induction of Th2 cells in vivo has not been defined. My studies offer three new candidates for the development of Th2 cells in response to alum-precipitated proteins in vivo that are:
NF-

k

B1, that is essential for the in vivo induction of Th2 cells, but is not required for the IL-4-dependent pathway in vitro more
Helios a transcription factor that belongs to the Ikaros family more
IL-17RB, the cytokine receptor that recognizes IL-25 more
Gene expression analysis of CD4 T cells primed in vivo reveal that both Helios and IL-17RB are selectively up-regulated in CD4 T cells during responses to alum-precipitated antigen, but are not induced in cells responding to Salmonella infection (1). In addition, the expression of these three molecules is not dependent upon IL-4-signalling for they are not induced in T cells responding to TCR and IL-4 stimulation in vitro. These results suggest that alum-vaccine may promote the induction of IL-25 possibly by dendritic cells, and this in turn may trigger the expression of NF-kB1 and Helios in the responding CD4 T cells thereby regulating their differentiation to IL-4-producing cells. Further studies are warranted to assess these hypotheses.
References:
1. Cunningham, A. F., F. Gaspal, K. Serre, E. Mohr, I. R. Henderson, A. Scott-Tucker, S. M. Kenny, M. Khan, K. M. Toellner, P. J. Lane, and I. C. Maclennan. 2007. Salmonella Induces a Switched Antibody Response without Germinal Centers That Impedes the Extracellular Spread of Infection. J Immunol 178:6200-6207.
2. Cunningham, A. F., M. Khan, J. Ball, K. M. Toellner, K. Serre, E. Mohr, and I. C. Maclennan. 2004. Responses to the soluble flagellar protein FliC are Th2, while those to FliC on Salmonella are Th1. Eur J Immunol 34:2986-2995.
3. Serre, K., E. Mohr, K. M. Toellner, A. F. Cunningham, S. Granjeaud, R. Bird, and I. C. MacLennan. 2008. Molecular differences between the divergent responses of ovalbumin-specific CD4 T cells to alum-precipitated ovalbumin compared to ovalbumin expressed by Salmonella. Mol Immunol 45:3558-3566.
4. Cunningham, A. F., K. Serre, K. M. Toellner, M. Khan, J. Alexander, F. Brombacher, and I. C. MacLennan. 2004. Pinpointing IL-4-independent and IL-4-influenced acquisition and maintenance of Th2 activity by CD4 T cells. Eur J Immunol 34:686-694.
5. Mohr, E., K. Serre, R. A. Manz, A. F. Cunningham, M. Khan, D. L. Hardie, R. Bird, and I. C. MacLennan. 2009. Dendritic cells and monocyte/macrophages that create the IL-6/APRIL-rich lymph node microenvironments where plasmablasts mature. J Immunol 182:2113-2123.
6. Cunningham, A. F., P. G. Fallon, M. Khan, S. Vacheron, H. Acha-Orbea, I. C. MacLennan, A. N. McKenzie, and K. M. Toellner. 2002. Th2 activities induced during virgin T cell priming in the absence of IL-4, IL-13, and B cells. J Immunol 169:2900-2906.
Side Research and Collaborations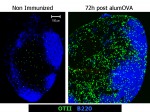 CD4 T cells primed to a primary single immunization show extensive diversification in their response
more
.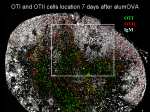 I have assessed the response of antigen-specific CD8 T cells to alum-precipitated protein antigen
more
.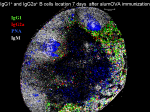 In collaboration with
Dr. Elodie Mohr
, we have monitored the influence of antigen specific CD8 T cells on the B cell responses to alum-precipitated protein antigen
more
.